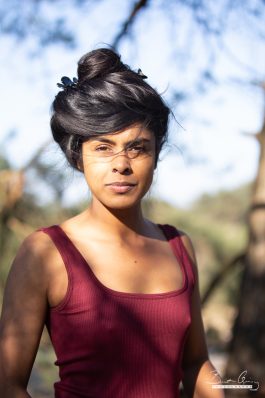 Ik ben te boeken als model en actrice. Super fascinerend om diverse emoties en gevoelens op te wekken door middel van spel voor de camera, of het vastleggen van diverse emoties en expressie op beeld. Het inlevingsvermogen is iets wat hoort bij het neerzetten van een bepaalde rol. Het spelen van een compleet ander karakter, het intense inleven en alle aanpassingen die daarbij horen, geven mij nieuwe energie en inspiratie.
Mijn studie aan de HBO Dansacademie en mijn dans-zang ervaringen hebben hier ook erg bij geholpen. Hetgeen wat ik daar heb geleerd zoals b.v. 'hoe presenteer je jezelf', hoe is mijn stemgebruik en hoe beweeg je. Dit heb ik allemaal mee kunnen nemen in mijn acteer en modellen rollen. Dankzij mijn verschillende spelervaringen en expressies kan ik me inleven in verschillende leeftijden, een rol als jonge tiener, maar ook het andere uiterste: een serieuze psycholoog of een zakenvrouw.…
Tv regisseur & Schrijver "Klein van postuur, groot van karakter. Ze kan acteren, dansen, doceren, organiseren en nog veel meer"
Filmregisseur "Araliya is een fijn persoon om mee te werken. Ze kan vele leeftijden aan en spat van het scherm".
Regisseur "Ik was zeer onder de indruk van je acteerwerk in je showreel, hoe vloeiend je door de verschillende contrasterende emoties beweegt"