Cacao, Yin yoga & Mantra
14
14 people viewed this event.
De kracht van Cacao, Yin yoga en Mantra:
Tijdens deze middag ben je welkom in de Yoga Tempel, een knusse veilige plek om thuis te komen en een moment voor jezelf te nemen.
Samen gaan we het hart openen met de kracht van ceremoniële rauwe cacao uit Ecuador. We zakken in de stilte van fijne Yin yoga houdingen om te luisteren naar wat je wilt uitnodigen, los laten en verzachten.
Dit event geeft je de ruimte om naar binnen te keren en verbinding te maken met jouw hartsverlangen. We drinken de cacao in zijn puurste vorm en met oprechte aandacht om de kracht van het plantmedicijn te ervaren.
Araliya begeleid je met het harmonium tijdens de klanken en mantras.
Over Cacao:
Het drinken van rauwe cacao is een prachtige en veilige manier om als 'plant teacher' in te zetten. Cacao zal bitter zijn en het opent jouw zintuigen. Het is een subtiele veilige manier om contact te maken met dit plantmedicijn en de wijsheid hiervan.
Rauwe cacao heeft een waanzinnige, sensitieve en intelligente manier van werken op alle lagen; fysiek, mentaal, emotioneel en spiritueel. Ze verwarmt je en reinigt wat in de weg staat om je dieper te kunnen verbinden met jezelf en met het leven.
Cacao drijft vocht af dus het is belangrijk om tot 48 uur na het event goed gehydrateerd te blijven. Veel water drinken ondersteund het energetische en lichamelijke reinigingsproces van het lichaam. Ben je zwanger of geef je borstvoeding laat het mij dan vooraf even weten. Je krijgt dan een aangepaste dosis. Soms kan er hoofdpijn of misselijkheid optreden na de ceremonie wat een teken van heling of reiniging kan zijn.
About Cacao:
Cacao works strongly on the heart chakra and brings us back to our most natural state of feeling. I opens your heart, allows joy and brings deep and meaningful connections to those who gather in ceremony and even more deeply to the inner self. May it remind of the beauty of life, may it raise the energy of our world, may it allow ears and hearts to open fully and allow the universal energy to bless each soul it touches. Let this sacred cacao bring a smile to the hearts, minds and faces of all those who embrace this gift from the earth.
A wonderful day to give yourself the time to slow down and connect to the softness and kindness of cacao. Clearing mentally, find peace and rest. Helping you to learn more about yourself and gain clarity on where you are on your path right now and where you want to go next.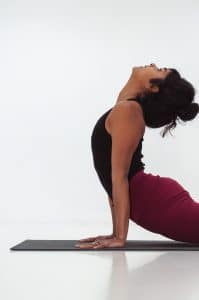 Araliya will guide you from the head in to our heart. Creating a comfortable and safe space where we will slow down our pace, practice Yin yoga, sing, breath and take some steps back.
Boosting our moods through meditation and stillness, a lovely chant to connect our voices.
Make room for gratitude, new experiences and ideas to grow!
Feel very invited to come and share this cosy evening with us.
Docent: Araliya Bosma
Wanneer: Zondag 16 April: 16.00-17.30 uur
Prijs: € 30
https://deyogatempel.nl/2023/01/25/yin-yoga-de-kracht-van-cacao-en-mantra/